Janeane Garofalo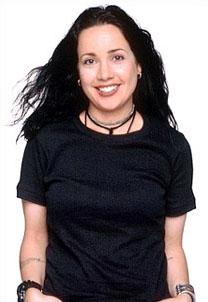 Born: 28-Sep-1964
Birthplace: Newton, NJ
Gender: Female
Religion: Atheist
Race or Ethnicity: White
Sexual orientation: Straight
Occupation: Comic
Party Affiliation: Democratic
Nationality: United States
Executive summary: Actor, Comedian, Author, Activist
Janeane Garofalo grew up the daughter of an oil company executive and an office secretary in Houston, Texas. At the age of nine, her family moved to Madison, New Jersey, which is where they remained until her senior year of high school. Then Exxon suddenly transferred her dad to Texas, so the family uprooted itself again and returned to Houston. Up to that point, Garofalo's life had been fairly typical. But the culture shock in her senior year of high school caused acute depression, and she got fat (5'1", 160 pounds). After graduation, Garofalo headed off to Providence College in Rhode Island, where she decided to try stand-up comedy, which soon inspired the plump 20-year-old to undergo breast reduction surgery. After graduating from Providence with a degree in history, Garofalo pursued her standup career in Boston. She briefly returned to Houston to nurse her mother through cancer; after her death, Garofalo moved to Los Angeles, where she landed simultaneous roles on both The Ben Stiller Show and The Larry Sanders Show.
After a slew of supporting roles im films including 1994's Reality Bites, Garofalo pinned her hopes on playing the wife in Flirting With Disaster. She lost out to Patricia Arquette, reportedly because the producers thought she was too fat. It prompted her to lose weight, after which she landed a couple of starring roles, in The Truth About Cats & Dogs and The MatchMaker. Both films were box office disappointments, and Garofalo subsequently landed back in the supporting actor classification.
In 2004, Garofalo began cohosting a daily talk show, The Majority Report, on the liberal Air America Radio network. She left the network in July 2006, a month after her repeated voicing of support for the Scientology-backed New York Rescue Workers Detoxification Project led to her cohost and producer walking out of a broadcast.
Father: Carmine Garofalo (Exxon executive)
Mother: Joan (secretary at Conoco-Phillips, d. colon cancer)
Brother: Michael
Boyfriend: Barry (1985-87)
Boyfriend: Ben Stiller (1990)
Husband: Rob Cohen (TV writer-producer, m. 1991, separated)
Boyfriend: Bob Odenkirk
Boyfriend: Mitch Rouse
Boyfriend: Craig Bierko (1999)
Boyfriend: Pete Caldes
Boyfriend: Greg Behrendt (ex-)
High School: Madison High School, Madison, NJ (transferred)
High School: James E. Taylor High School, Houston, TX (1982)
University: BA History, Providence College, Providence, RI (1986)
From:
http://www.nndb.com