Andy Kaufman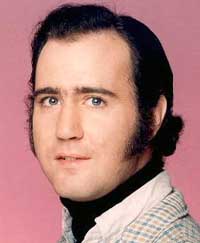 Andy Kaufman (born January 17, 1949) began performing at age eight. His later stand-up routine was unorthodox, but it caught the attention of Hollywood, and soon he was appearing on TV, particularly on a new show called
Saturday Night Live
Early Comedy Career
Performance artist, comedian. Born January 17, 1949, in New York City. Raised in the affluent suburb of Great Neck, on Long Island, Kaufman early on began practicing his unorthodox brand of comedy, staging a make-believe television show in his bedroom and performing at children's birthday parties from the age of eight. He graduated from high school in 1967 and received a 4-F deferment from the military draft after failing the psychological portion of the test. Early on, Kaufman embraced the practice of Transcendental Meditation, or TM, which became an important fixture in his life and helped him gain the courage to perform. While studying at Boston's Grahm Junior College, where he majored in television and radio production, Kaufman wrote, produced, directed, and starred in his own program, Uncle Andy's Funhouse, on a campus TV station.
In 1971, Kaufman was 'discovered' by Budd Friedman, owner of the Improvisation Comedy Club, while doing a stand-up routine in a Long Island nightclub. He began performing at the Improv locations in both New York and Los Angeles, confronting his often confused audiences with a strange kind of performance art - he might read F. Scott Fitzgerald's The Great Gatsby aloud until his entire audience walked out, for example, or appear on stage with a sleeping bag and sleep his way through the act. With an array of bizarre foreign accents, dead-on impersonations of Elvis Presley, and a strange obsession with professional wrestling, Kaufman won fans - and rabid critics - in large numbers. Through his stand-up, he met the comedic actors Carl Reiner and Dick Van Dyke; their manager, George Shapiro (later co-executive producer of the hit sitcomSeinfeld) agreed to represent Kaufman as well.
He made his national TV debut in 1974 on The Dean Martin Comedy Hour. In 1975, the NBC executive Dick Ebersol saw Kaufman's stand-up routine and invited him to audition for a new comedy program called Saturday Night Live. Kaufman made his first of 14 appearances on the show during its first-ever broadcast on October 11, 1975, when he lip-synched "The Theme from Mighty Mouse." The most notorious of the many characters Kaufman portrayed onSNL was the self-proclaimed undefeated Intergender World Wrestling Champion, an ultra-chauvinistic character who offered women $1000 if they could pin him in a wrestling match. Kaufman parlayed this concept into a series of performances and stirred up a good deal of controversy, especially among female viewers, who were outraged by the character's misogynist nature. In 1982, he suffered major neck and back injuries in a bout with pro wrestler Jerry Lawlor, with whom he later got into a heated argument on The Late Show with David Letterman. Many eventually suspected the conflict on Letterman had been staged with Lawlor's participation.
Kaufman also made memorable
http://www.biography.com/people/andy-kaufman-9542253