Robin Williams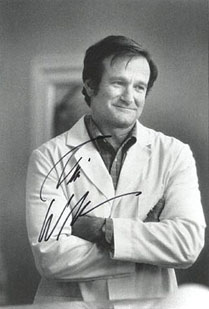 AKA Robin McLaurim Williams
Born: 21-Jul-1952
Birthplace: Chicago, IL
Gender: Male
Religion: Anglican/Episcopalian
Race or Ethnicity: White
Sexual orientation: Straight
Occupation: Comic, Actor
Nationality: United States
Executive summary: Mork from Ork
The young Robin Williams was a manic comic, shooting off bizarre but hilarious improvisations like a Fourth of July sparkler. He wrote and performed for The Richard Pryor Show, a brilliant but censor-saddled sketch comedy show that lasted just four episodes in 1977 before NBC pulled the plug. In 1978 Williams made a guest appearance on Happy Days, playing the space alien Mork from Ork. This quickly led to his own sitcom, Mork & Mindy, co-starring Pam Dawber.
His first big-screen role was the perplexing Popeye, with Robert Altman directing a screenplay by Jules Feiffer, music and lyrics by Harry Nilsson, Shelley Duvall perfect as Olive Oyl and Williams giving a spot-on rendition of the spinach-eatin' sailor's hug-gug-gug. In his second film, Williams played T. S. Garp in an enjoyable albeit saccharin and sentimental adaptation of John Irving's The World According to Garp, and he has been an irrepresible comedy fixture ever since. His better films include Moscow on the Hudson, Good Morning, Vietnam,Dead Poets Society, Awakenings, The Fisher King, Aladdin, Mrs. Doubtfire, and, if you have a high tolerance for schmaltz, Patch Adams.
As Williams' youth has faded and his fans have grown older, the audience for his wacky comedy has ebbed. The same schtick that seemed cute and mischievous in his mid-20s, à la Mork & Mindy, can seem a little sad when it's performed by someone in his 40s or 50s (see Flubber). So Williams has tiptoed away from comedic films, and seems to see himself as a 'serious' actor now, headlining somewhat overwrought melodramas like One Hour Photoand Insomnia. He won an Oscar as Matt Damon's psychologist in Good Will Hunting.
Williams was reportedly one of the last people to see John Belushi alive, as they snorted cocaine together. An '80s live-in girlfriend of Williams, cocktail waitress Michelle Tish Carter, sued Williams in 1986, claiming she had contracted herpes from him. She demanded $6.2 million, and the suit was settled in 1992 when Williams forked over an undisclosed amount. Williams was a good friend of Christopher Reeve, but there's no truth to the talk that Williams picked up the tab for years of Reeve's medical expenses.
Williams still does stand-up, often headlining "Comic Relief" events for charity, and donating his services for liberal fundraising events. He was an outspoken critic of President George W. Bush. "The W stands for 'where the hell is it?' You know, you look at George W. and you realize some men are born great, some achieve greatness, and some get it as a graduation gift. So sad. I just want to ask the Secret Service, is it true that his Secret Service code name is Gilligan?"
Sources vary, 1951 or 1952.
Father: Robert Williams (Ford Motor Company executive, b. 1901, d. Oct-1987)
Mother: Laurie Williams (model, b. 1922)
Brother: Robert Todd Williams (stepbrother, winemaker, d. 14-Aug-2007)
Girlfriend: Christy Canyon (porn star, dated in 1980s)
Wife: Valerie Velardi (then a dancer, now an NPR producer, m. 4-Jun-1978, div. 1988, one son)
Son: Zachary Williams (b. 1983)
Girlfriend: Michelle Tish Carter (cocktail waitress, cohabited 1984-86)
Wife: Marsha Garces (Williams' personal assistant, b. 1957, m. 30-Apr-1989, div. 2008, two children)
Daughter: Zelda Williams (b. 31-Jul-1989)
Son: Cody Williams (b. 25-Nov-1991)
Wife: Susan Schneider (graphic designer, m. 23-Oct-2011)
High School: Redwood High School, Larkspur, CA (1969)
University: Political Science, Claremont Men's College (dropped out)
University: Drama, Marin College
University: Drama, Juilliard School
From:
http://www.nndb.com